Add to favorites
A 10-minute walk from the Château de Chantilly, the Pavillon de Manse, also known as the 'Moulin des princes' (Princes' Mill) invites you to enjoy a unique experience on the banks of the river Nonette.

Built in the late 17th century, the Pavillon de Manse houses the 'Grandes Eaux' machine – a large wooden wheel designed to supply water to the ornamental ponds and fountains of the château gardens. Over the centuries, various water-powered machines have complemented this unique machine. Today, you are invited to witness the operation of these machines, which have been restored by a team of enthusiastic volunteers.
A machine for a lavish display
André Le Nôtre, the king's gardener, was hired to create a garden with 'Grandes Eaux' (large water features) in the Château de Chantilly's park. To enable the functioning of the many fountains that were planned, it was necessary to build a machine that would fill with water a large reservoir, from which the pipes would run. Jacques de Manse, a businessman and advisor to the king, is responsible of these works, while master carpenter Albert built the wooden water wheel.
And to house this extraordinary machine, a remarkable stone structure was built by the king's architect, Jules Hardouin Mansart.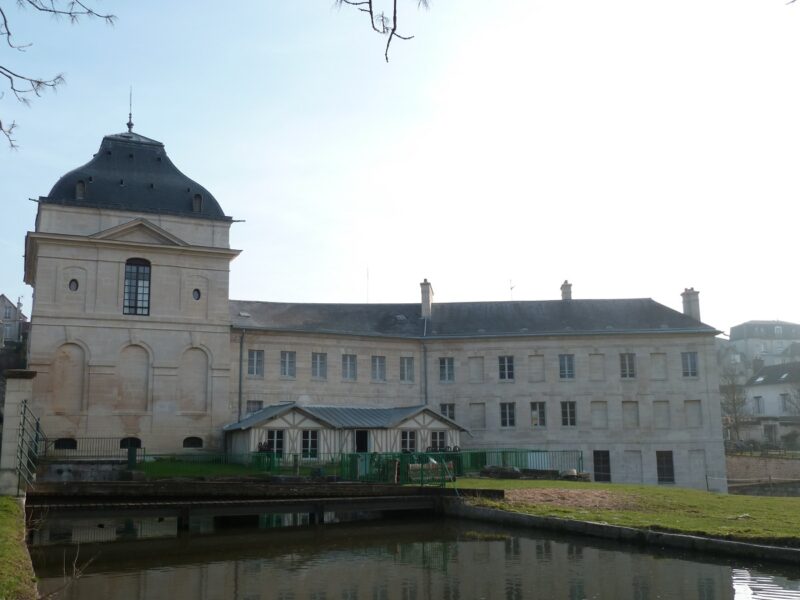 Continuing to pioneer in hydraulics
During the Revolution, the Chantilly estate was declared a bien national. The hydraulic machine was brought under the control of the municipality and was used to supply water to the developing city.
In 1840, the Duke of Aumale, who had returned to his property, dismantled the now out-of-order 17th-century machine and had it replaced by a new pump. A new turbine system was installed in 1870, in line with the latest advancements in technology. Drilling more than 100 metres deep enabled the château and its dependencies to be supplied with drinking water. A laundry equipped with a calender – a machine used to press the laundry – was installed in the adjacent building. The Pavillon de Manse remained active until 1987.
A new life
In 1997, the Association Pavillon Jacques de Manse, made up of volunteers, was formed to restore the interior of the building and its hydraulic machines. The wooden water wheel was rebuilt as it was described in 1784 in an album preserved at Musée Condé. It was inaugurated in 2005.
Visiting this little-known industrial treasure is an entertaining experience that is accessible to all. Children and adults alike have the opportunity to learn, in a fun way, everything about the working of hydraulic mechanisms.
To complete your visit:
The Office de Tourisme Chantilly-Senlis offers an app designed to help you discover the vanished Grandes Eaux in virtual reality.
And to discover an idea for a walk, click on this link, or download the app 'rando Parc Oise' to be geolocated.
Add to favorites