Add to favorites
Lovers of gardens, here you will be overjoyed! You will discover a romantic park and 3 original gardens surrounding the royal abbey …
The Park
This 6.5 hectares park is the result of transformations made at very different times.
In the Middle Ages, the monks tapped a spring 3 km away for drinking water. They also canalized two rivers (the Thève and the Ysieux). One of the canals enters the domain and crosses the latrines that it cleans before becoming underground. The others feed fish ponds and mills.
Later, the canal, intended for the needs of the laundry, was enlarged into large water mirrors for the sole pleasure of decorating the park.
All these canals are still visible today and are one of the charms of the site.
The 9 squares garden
This medieval-inspired garden is designed to host exhibitions on plants.
Created in 2004, by landscape designers, it consists of 9 squares, evocative of the simple gardens of the medieval world.
These 9 squares made of woven living wicker contain plants that remain in place naturally throughout their cycles. The plants that make it up are completely changed every three or four years.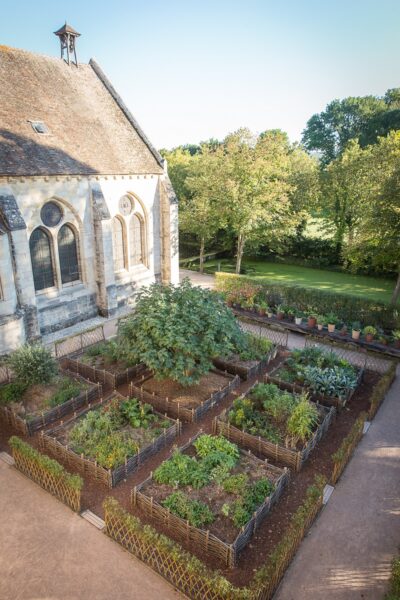 The cloister garden
This 13th-century cloister is large and rectangular, not square. Plants are already present in the architecture and decoration of the cloister, in a stylized manner, simplified to suggest the mastery of nature.
In the Middle Ages, the cloister was planted with medicinal herbs or left bare, as recommended by Cistercian austerity. In the 19th century, the nuns of the Sainte-Famille de Bordeaux divided this space into 4 parts around a basin and in 1912, the Goüin family, then owners of the abbey, transformed it into a charming little French garden, in a style freely inspired by the compartmentalized flowerbeds of the Renaissance.
The restoration of the garden, in 2010, completes the work on the cloister undertaken since 1996.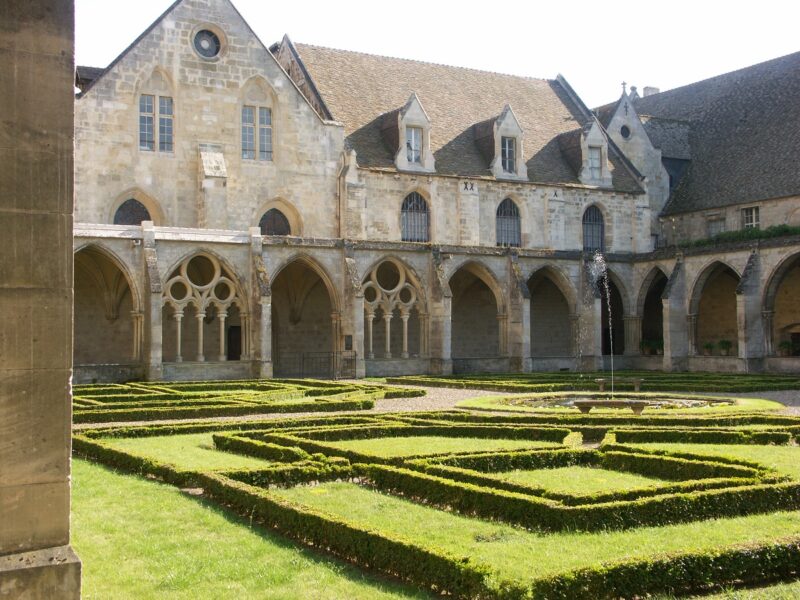 The vegetable garden
Conceived in 2013, this 9,000 m² space takes up the structure of the traditional vegetable garden and develops an original production method for edible plants. The vegetables grow freely and irregularly in "vegetable cells". Highly experimental, inspired by permaculture, this system is based on the natural regeneration and reseeding capacities of each plant. Watering is practically not necessary; only the acclimatization of new species requires it.
In the center, the "gardener's hut" is a contemporary architectural creation.
In total, the vegetable garden is home to 130 varieties of edible plants and 60 fruit trees (apple, pear, cherry), either trellised or open-winded.
For a long time, the abbeys were both a conservatory and a field of experience of techniques and knowledge. The contemporary vocation of Royaumont does not break with this tradition.
Parctical inofrmation
Abbaye royale de Royaumont
95270 Asnières-sur-Oise
Tél. : 01 30 35 59 70
www.royaumont.com
To complete your visit:
Discover a walk by clicking on this link, or download the app 'rando Parc Oise' to be geolocated.
Add to favorites